May 25, 2004 - 12:00
GFI announced the release of GFI Network Server Monitor version 5.5, an upgrade of its automatic network and server monitoring tool. The upgraded version includes a remote web monitor, which allows administrators to check network and server status from anywhere in the world using a web browser, a mobile phone, or any handheld device such as a BlackBerry.
GFI Network Server Monitor is a monitoring tool that allows administrators to monitor the network for failures or irregularities automatically. With it, administrators can identify issues and fix unexpected conditions before their users report them. GFI Network Server Monitor maximizes network availability by monitoring all aspects of a network's servers (including UNIX/Linux servers), workstations and devices (routers, etc). When it detects a failure, GFI Network Server Monitor can alert the administrator by email, pager or SMS (texting), as well as taking corrective action by, for example, rebooting the machine, restarting the service or running a script. Any amount of rules can be configured and each can be customized to suit one's needs and network set-up.
Ability to view network status from anywhere in the world
Administrators can check rule status from any location using the remote web monitor feature that comes with version 5.5. The remote web monitor includes two types of web page views: One for a normal web browser and one optimized for viewing from a mobile phone or handheld device such as a BlackBerry or a Palm. A small footprint web server is included, although the feature can also be operated in conjunction with IIS.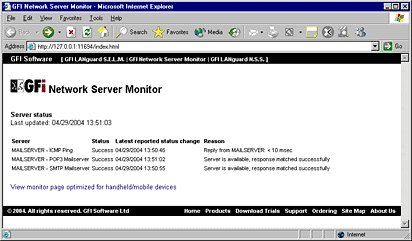 Normal remote monitor view
"The ability to check the status of key server applications from a handheld or a mobile is a must-have feature," said Nick Galea, GFI CEO. "With it, administrators can increase network up-time and make their life easier."
Simpler than traditional network monitoring products
There are several network monitoring tools on the market; however GFI Network Server Monitor stands out for its ease of use. Its intuitive rules interface makes monitoring a network simple. With GFI Network Server Monitor, administrators can monitor their network within an hour of installing it. By comparison, conventional network monitoring programs are complex to install and have a steep learning curve.
Competitively priced
Traditionally network monitoring/management products are rather expensive. For example, Microsoft Operations Manager costs US$395 per monitored processor. With GFI Network Server Monitor 5.5, this is no longer the case:  Unlimited monitoring of all workstations and servers costs as little as US$699, while a five-server monitoring license only costs US$375. More product information and an evaluation version are available at http://www.gfi.com/nsm/.
About GFI
GFI is a leading software developer that provides a single source for network administrators to address their network security, content security and messaging needs. With award-winning technology, an aggressive pricing strategy and a strong focus on small-to-medium sized businesses, GFI is able to satisfy the need for business continuity and productivity encountered by organizations on a global scale. GFI has offices in the US, Malta, UK, Hong Kong and Australia which support more than 200,000 installations worldwide. GFI is a channel-focused company with over 10,000 partners worldwide. GFI is a Microsoft Gold Certified Partner. More information about GFI can be found at http://www.gfi.com.