April 12, 2004 - 12:00
GFI today announced the release of GFI LANguard Network Security Scanner (N.S.S.) 5, a major upgrade of its popular network security scanner. The new interface (see screenshot) makes detecting and fixing vulnerabilities much easier.  Among the new features are improved filtering and reporting, the easy creation of different types of scans and vulnerability tests, better patch management, and improved Linux/Unix security scanning.
Improved filtering and reporting – easily analyze scan results
Analysis of the GFI LANguard N.S.S. scan results has been vastly improved. Administrators can now choose from more extensive default reports, which include machines with critical security vulnerabilities, machines with missing patches or service packs and more. Administrators can easily adapt existing filters and create new custom filters from scratch. Scan results can also be saved to XML.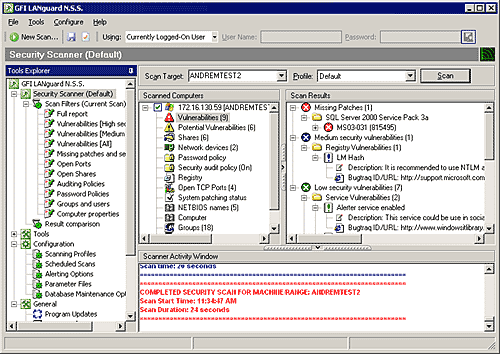 The new GFI LANguard N.S.S. 5 interface
"Administrators simply do not have time to sift through the piles of data that are returned by conventional security scanners. GFI LANguard N.S.S. is built specifically to facilitate network administrators' work by providing them with the information required in a clear, compact format. This way, they can manage network security in a faster, more efficient manner," said Andre Muscat, GFI Product Manager.
Network-wide patch & service pack management
GFI LANguard N.S.S. can deploy missing service packs and patches network-wide, without user intervention. It is the ideal tool to monitor that Microsoft SUS is doing its job properly and to perform the tasks SUS cannot do. Administrators can use GFI LANguard N.S.S. to deploy Microsoft Office patches and custom software patches, for patch reporting and for immediate deployment of high alert patches. Microsoft SUS cannot do any of this. GFI LANguard N.S.S. supports patching of English, Spanish, Italian, French and German versions of Microsoft Office as well as custom software patching (for example, virus updates or client software deployment). If administrators prefer not to use Microsoft SUS, GFI LANguard N.S.S. can deploy patches for English versions of Windows NT/2000/2003/XP, Microsoft Exchange Server, Microsoft SQL Server and Microsoft ISA Server.
Addition of custom vulnerabilities using scripts/conditions
Administrators can add their own vulnerability checks using conditions, for example, to check for particular registry entries/values. Users can also write complex vulnerability checks using the GFI LANguard N.S.S. VBscript-compatible script engine. GFI LANguard N.S.S. includes a script editor and debugger to help with script development.
Easily create different types of scans/vulnerability tests with Scan Profiles
Using Scan Profiles, administrators can scan for different types of information. For example, they can scan for open shares on workstations, security audit and password policies, machines missing a particular patch or machines missing a particular service pack. Different types of vulnerabilities can be scanned for, and the scan can also be performed using different identities, providing different network perspectives.
Improved Linux/Unix security scanning
GFI LANguard N.S.S. 5 now includes an extensive set of Linux vulnerability checks. More will be added on a continuous basis and will be available via automatic download from the GFI website.
Automatically downloads new vulnerabilities and patch information
GFI LANguard N.S.S. 5 now checks the GFI website for updates to the vulnerability database and the Microsoft patch database, and downloads any new vulnerabilities/patch information automatically.
Other new features
• Security vulnerabilities are now categorized according to importance (high/medium/low)
• Scan filters allow for easy filtering of scan data
• More scripts and vulnerabilities; includes top SANS vulnerabilities
• Scalable back-end: GFI LANguard N.S.S. 5 now uses a Microsoft Access or SQL database for storing scan data; the database makes it easy to create custom reports and perform trending analysis
• Scan results can be saved to XML for reporting purposes
• Improved SQL server audit tool
• New tool to enumerate users.
A detailed list of new features is available at http://kbase.gfi.com/showarticle.asp?id=KBID002051.
About GFI LANguard N.S.S.
GFI LANguard Network Security Scanner (N.S.S.) checks a network for possible security vulnerabilities by scanning the entire network for missing security patches, services packs, open shares, open ports, unused user accounts and more. With this information (displayed in customizable reports), administrators can easily lock down their network against hackers. GFI LANguard N.S.S. can also remotely deploy missing patches and service packs in applications and OS. GFI LANguard N.S.S. is the leading Windows security scanner and very competitively priced. For more information and to download the product, one can visit http://www.gfi.com/lannetscan/.
About GFI
GFI is a leading software developer that provides a single source for network administrators to address their network security, content security and messaging needs. With award-winning technology, an aggressive pricing strategy and a strong focus on small-to-medium sized businesses, GFI is able to satisfy the need for business continuity and productivity encountered by organizations on a global scale. GFI has offices in the US, Malta, UK, Hong Kong and Australia which support more than 200,000 installations worldwide. GFI is a channel-focused company with over 10,000 partners worldwide. GFI is a Microsoft Gold Certified Partner. More information about GFI can be found at http://www.gfi.com.